ANTON BRUCKNER
Complete Edition (until 2014)
Symphony No. 2 in C minor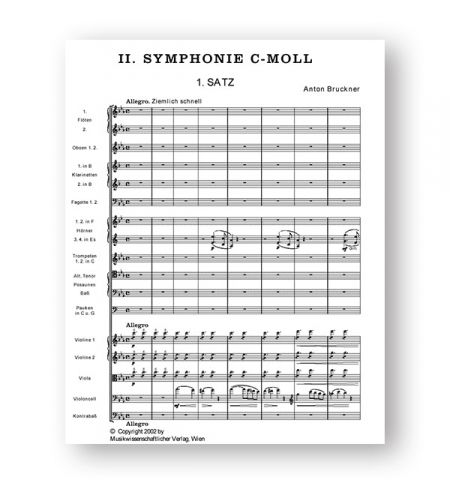 First Version (1872)
edited by William Carragan
2,2,2,2-4,2,3,0-Pk-Str / 62'
B 2/1-STP: Study score
ISMN 979-0-50025-180-4
B 2/1-DIR: Conductor's score
ISMN 979-0-50025-237-5
* Performance material for hire
read on
Although the first performance of the Second Symphony on 26 October 1877 by the Vienna Philharmonic under Bruckner's baton was a great success, the composer's highly personal musical language was not understood and well-intentioned friends and patrons (such as Johann Herbeck) called for a revision. Performances and recordings of the first version, edited here by William Carragan on the basis of all available sources, offer the musical world fascinating insights into the genesis of this profoundly individual work.
Second Version (1877)
edited by William Carragan
2,2,2,2-4,2,3,0-Pk-Str / 51'
B 2/2-STP: Study score
ISMN 979-0-50025-181-1
B 2/2-DIR: Conductor's score
ISMN 979-0-50025-238-2
* Performance material for hire
read on
Leopold Nowak did not live to make his own editions of both Bruckner's versions of the Second Symphony, but he personally entrusted the task of editing the first version to William Carragan. The new printing of the second version eliminates the elements incorporated from the first version by Robert Haas.
Critical report
on all versions by William Carragan
B 2-RVB
ISBN 978-3-900270-85-8 / ISMN 979-0-50025-259-7
in preparation