ANTON BRUCKNER
Complete Edition (until 2014)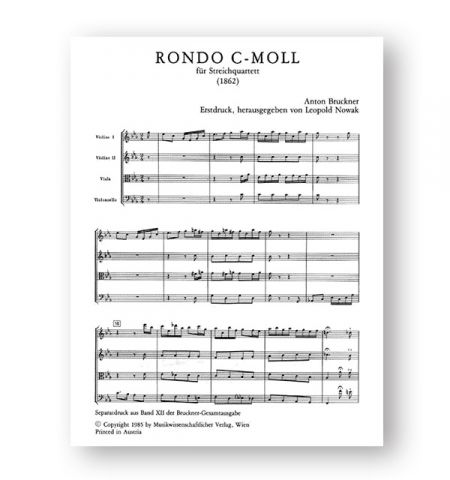 String quartet in C minor (1861/62)
First printed edition by Leopold Nowak (1955)
B 13/1-STP: Study score
(revised edition 1999)
ISMN 979-0-50025-212-2
B 13/1-STI: Parts
ISMN 979-0-50025-071-5
B 13/1-RVB: Critical report
by Leopold Nowak (1956)
ISBN 978-3-900270-87-2 / ISMN 979-0-50025-100-2
Rondo in C minor for string quartet (1862)
First printed edition, ed. Leopold Nowak (1985)
B 12/1-STP: Study score
ISMN 979-0-50025-019-7
B 12/1-STI: Parts
ISMN 979-0-50025-070-8
Bruckner wrote this work as his answer to a composition exercise.
String quintet in F major / Intermezzo in D minor (1878/79)
Revised edition by Gerold G. Gruber (2007)
for two violins, two violas, and violoncello (43', 8')
B 13/2-STP: Study score (revised edition 1996)
ISMN 979-0-50025-264-1
B 13/2-STI: Parts
ISMN 979-0-50025-265-8
B 13/2-RVB: Critical Report
by Gerold W. Gruber
ISBN 978-3-900270-75-9 / ISMN 979-0-50025-256-6
in preparation
read on
Although the years 1876 to 1879 saw Bruckner mainly occupied in revising his symphonies, his only genuine work of chamber music also dates from this period. Bruckner composed the Intermezzo because Josef Hellmesberger found the Scherzo too difficult.