HUGO WOLF
Complete Edition
String Quartet in D Minor
"Entbehren sollst du, sollst entbehren", 1879-1884
Edited von Hans Jancik (1960)
[ Thou shalt renounce, shalt renounce ]
W 15/1-STP: Study score
ISMN 979-0-50025-055-5

W 15/1-STI: Instrumental parts
ISMN 979-0-50025-057-9
read on
Wolf's string quartet, begun when he was nineteen, clearly shows the influence of Beethoven – particularly the Beethoven of the later string quartets and sonatas – but also makes it clear that Wolf by now had an astounding mastery both of form (already transformed in his own particular way) and of expressive means. (Hans Jancik)
Intermezzo in E Flat Major for String Quartet (1886)
Edited by Hans Jancik (1960)
W 15/2-STP: Study score
ISMN 979-0-50025-056-2

W 15/2-STI: Instrumental parts
ISMN 979-0-50025-058-6
read on
The Intermezzo was Wolf's second completed work of chamber music; published here for the first time, it was composed in 1886, between the String Quartet in D minor and the Serenade for string quartet.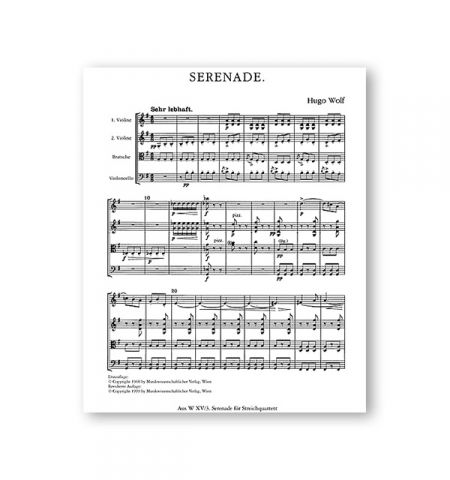 Serenade for String Quartet (1887)
Edited by Hans Jancik (1960)
Revised by Leopold Spitzer (1999)
W 15/3-STP: Study score
with critical report
ISMN 979-0-50025-206-1

W 15/3-STI: Instrumental parts
ISMN 979-0-50025-060-9
read on
The Serenade is among the best-known and most often-played of all Wolf's works. It contains an eternally fascinating abundance of charming musical ideas, and the listening ear cannot but admire the composer's subtle feeling for sound colours. (Hans Jancik)
For Wolf's own 1892 instrumentation of this piece for small orchestra, the Italian Serenade, see W XVII/2.
Concerto for Piano and Violin Op. 6 (1875)
Edited, with a critical report, by Leopold Spitzer (1994)
W 15/4
ISMN 979-0-50025-061-6
read on
This work was composed in the autumn of 1875, when Wolf was beginning his studies at the Konservatorium der Gesellschaft der Musikfreunde. The first and second movements are complete, the third movement breaks off after 25 bars.